I'm back...
If we can just get off topic for a moment, I just saw the cover for Of Triton on my blogger feed. Hyperventilating. Okay. I'm good.
I'm dipping my toes into the world of publishing and I've discovered several things. If you guys would like a little publishing series here where I talk about the process, just let me know.
Today I'm reviewing a book called Aversion. I read this book about three weeks ago and have been so overwhelmed by pre-scheduled blog posts. To the author: I'm sorry.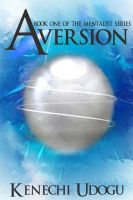 Aversion by Kenechi Udogu
Published Dec. 2, 2012
Publisher: Self
My Rating: 8/10
For Gemma Green's first time, things should have been straightforward. Find your subject, hold their gaze and push a thought into their head to save them from future disaster – Aversion complete. A pretty simple process given that the subject was to have no recollection of the experience. But Russ Tanner doesn't seem to want to forget. In fact the more she tries to avoid him, the more he pushes to get to know her. Gemma knows she has a problem but is she facing the side effects of a failed Aversion or has the school's tennis champ really fallen for her?
I was excited to read this book because it had a romantic aspect that I've never seen approached successfully before. The synopsis gave me a different idea of the book than what it actually was, so I kind of walked into it with a blind eye, so to speak. One thing I'm going to say right of the bat is I liked Russ more than Gemma. And I don't think that was supposed to happen. I don't want to say Gemma had no emotion, but I wanted to see more of a personality. Being that the book is in first person, I was expecting to see more of her vulnerable side and maybe some sarcasm/humor. I'm not saying I wanted the book to become a comedy but there were some aspects that were missing.
Russ. Well, what can I really say? If good men really did exist, he'd be the poster child I bet. He was so adorable and lovable and well. Y'know. I have a soft spot for people like that. Every time he appeared in the book I was just as happy as a dork could be.
Another thing I didn't care for was the book felt kind of isolated. This might have been done intentionally because it is a "mental" book (a book that has a lot to intellect) but the absence of characters was quite weird to me. Right now I can think of two main characters and three secondary characters (two of which had an appearance that lasted just about ten pages). That simply isn't enough for me. I wished it had more dialogue.
The story line was unique enough for me to give it a high rating, despite. There were lots of interesting plot twists and the few characters were interesting enough. The ending was also pretty great.
This review might sound harsh, but I actually want to read the second book. I have a really good feeling about it.
Author Links
Twitter - @kenechiudogu
Do an author a favor! Show support for our indies and purchase the book. Links below!
Aversion Book Sales Links